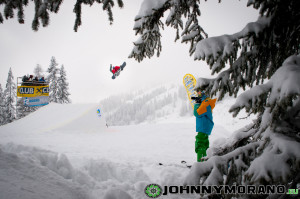 The first part of the Style Championship contest was again at the LIVINGROOM Hochkoenig. The focus of this freestyle contest is on slopestyle freestyle, which means that riders have to proof themselves on both the kicker and rails lines.
As usual, the weather was horrible again. Well, horrible for such an event, because it has been snowing since yesterday and it hasn't stopped ever since. Yes, it is still snowing here in Mühlbach am Hochkönig.
40 Riders, both snowboarders and freeskiers, teamed up for this event and showed the best tricks they've got.
All photos can be found at this page.